Planet
"Solyaris"
- fantastic planet, covered with a reasonable ocean, she is mysterious and unpredictable, always ready to surprise you, is amazing ...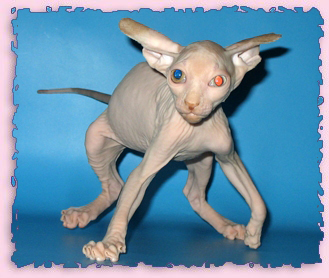 It is no accident and the name of our cattery Sphynx -
"Solyaris"
, because Sphynxes like fantastic creatures that come to us from other worlds that someone disgust, someones surprise, as someone admire, understand that you can not, not communicate with them without touching them, not accepting them for what they are!
Our cattery
"Solyaris"
fairly young - in 2005 we bought the first kitten of breed the Canadian Sphynx. Our cats and kittens live with us as true members of our family! Sphynx is unique, beautiful and gentle animals. On our site you will see many pictures of men and women of breed the Canadian Sphynx. Do Sphynx are very friendly in nature, they are smart, sharp and take a keen interest in everything that happens around, trying to be the center of all events.
As breeders of Sphynx, we hope to please you not only the diversity of our kittens, but also their education, friendly character, kindness to coming to your house, they made it a piece of extraterrestrial civilization that not only surprised, but also brings joy and attached to your home unique and original. Canadian Sphynx kittens charm cheerfulness, hand and touching character. Love to the owner bribes and disarms even the strictest of the owner. Canadian Sphynx loves when love only him and is willing to do for it all.
I hope that these amazing animals breed sphynx will not leave you indifferent and you want a wonderful kitten sphynx.
Our goal - to provide high-level healthy and strong kittens of breed the Canadian Sphynx, show quality, superior to their parents.
Our outcross program ensures that we limit the genetic defects in our future progeny. One important aspect of any cattery life is show career. High status of the nursery confirmed our manufacturers and the descendants of numerous awards at various international exhibitions.
Awards show - we have chosen the right path.
Our cattery is closed - we do not reproduce any of our cats with other cats other owners, preserving the health of our beloved cats. All adult animals undergo mandatory annual vaccination.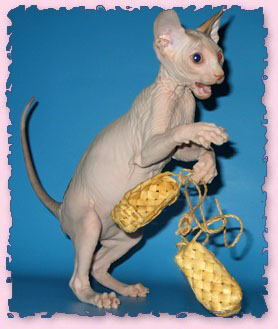 We wish each of you to find your own sphynx. We can offer you the elite Canadian Sphynx kittens from the parents of the best bloodlines in Russia, France, Israel, Thailand and Belgium ...
We try to educate our little pets properly and carefully monitor the health of cats.
Sphynx - is not just a cat. In addition, the original appearance, he had a very high intellect, he is in constant dialogue, it is easy to find contact with both adults and children, does not conflict with other animals. In our cattery
"Solyaris"
You can choose a kitten for breeding or as pets.
Our kittens leave our Canadian Sphynx cattery
"Solyaris"
not earlier than 3 months of age. At the time of sale of the Canadian Sphynx kittens are used to going to the toilet, adapted and adjusted for family life. All kittens are fully vaccinated, have a veterinary passport, pedigree and a contract.
Written guarantee of health FIP, FeCV, FIV, FeLV and HCM.
We always ask our customers, we help them to tips, we give detailed advice on maintenance, care and upbringing of a kitten sphynx.
If you need our help, you can contact us at any time.
We are always happy to help.
Find us not difficult to do that you do not have to fly to another planet ;-)
cattery
"Solyaris"
is located in Russia, Voronezh.
Thank you for your visit!

Do not forget to leave your wishes and messages in the guestbook!
With best regards Anna & Anatoly
Breeders of Canadian Sphynx cattery "Solyaris"
Статьи о сфинксах